Relax to the Max with chair Massage!
Liliana offers chair massage services bringing her skilled professional techniques to your office, church groups, special events, weddings, birthdays, and family reunions.
On-site chair massage adds a special touch of therapy and relaxation to a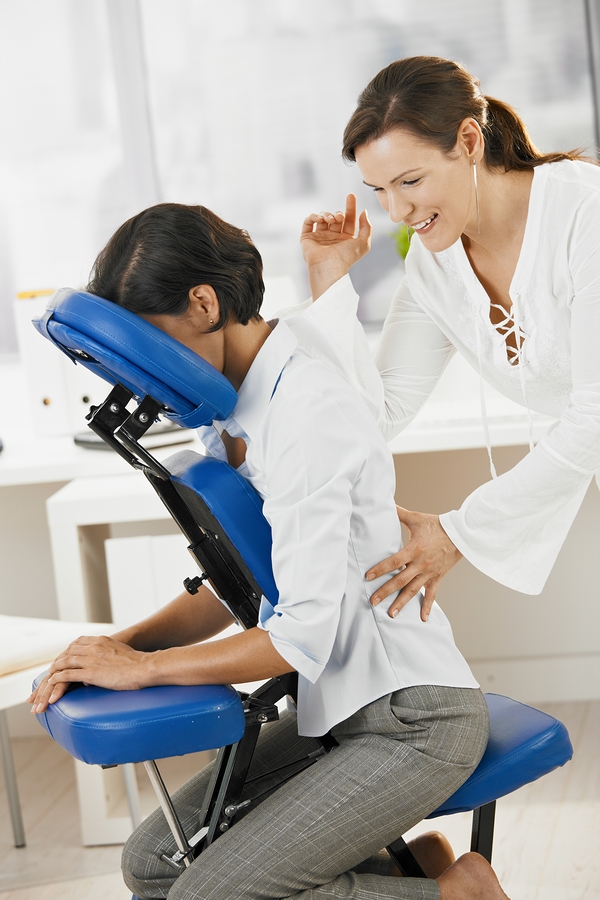 ny event.
Employee Reward!
Reward the winning department of a team competition to a fifteen-minute massage. After a stressful and demanding project, contract for a day of chair massage to show your appreciation for a job well done, or substitute a congratulations in the office newsletter after a strong fisical quarter with a sign-up in the break room for a complimentary chair massage.
Convinience:
Clients remain clothed
No oils are uded
The sessions generally lasts from ten to twenty minutes
The chair is lightweight and portable, enabling it to be set up in virtually any office or break room
The Benefits of Chair Massage
Chair massage is designed specifically to relax the muscles and improve circulation and movement within the body.
Studies by the Touch Research Institute in Miami, Florida, show that the benefits of chair massage have quick results. Immediately after massage sessions, the subjects experienced a change in brain waves in the direction of heightened alertness and better perfomance on math problems (completed in less time with fewer errors). Chair massage also:
Reduces job stress and elevates moods

Relax and relief muscular tension

Revitalizes energy

Helps to aliviate common problems conditions such as tension headaches, and stiff and sore muscles.

Improve thinking
Chair Massage is a service that you and those arround you deserve.
Rates: One hour chair massage $80 plus taxes. The first hour is $100 for set up and take down,and travel. It's a Wonderful treatment. Music, aroma oils and extra tools massage.
Please call Liliana at 507 286 8600
3Jhn 1:2 Beloved, I pray that all may go well with you and that you may be in good health, as it goes well with your soul.